Tool/Personal Packing List
REQUIRED TOOLS
Each person is required to bring the following items to CHWC. We depend on campers for these tools and supplies. Please turn these tools in at the registration table when you arrive at your camp location. These will not be returned to you.
Paintbrush
Roller Cover
Drop cloth
Face-mask for worksite (minimum of 4)
Painters tape (optional)
Paint tray or small bucket (optional)
Paint scraper (optional)
Rags for cleaning (optional)
Hand Sanitizer or disinfectant Lysol (spray or wipes)

PERSONAL SAFETY TOOL LIST
Each person is required to bring the following items to CHWC. Please put them in a small backpack and take them to your worksite. These tools will not be collected.
Small insulated water jug
Safety goggles
Work gloves
Face-mask for scraping/painting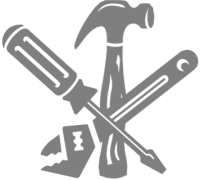 YOUTH GROUP SUPPLY LIST
As a youth group please bring the following:
We request one cooler for every 7 campers. The coolers are used to keep lunches cool and distributed at the worksites of your group members.
Also each group may want to bring some extra snacks to camp. (This is not a requirement only a suggestion). Snacks are not allowed in sleeping quarters. (Please make sure coolers and snacks are clearly labeled with parish name).
PERSONAL SUPPLY LIST
Masks for each day ( 7 total)
Pillow
Sleeping bag or sheets & blanket
Foam pad or air mattress (Please bring twin-size only. No king or queen size. Sleeping quarters are tight.)
Casual/comfortable clothes
Old T-shirts with sleeves (shirts without sleeves not permitted)
Work jeans
Shorts (short shorts prohibited)
Socks
Sturdy shoes or work boots
Cap/hat
Rain gear (optional)
Bathing suit (mandatory) and flip-flops
Toothbrush/toothpaste
Soap/shampoo
Deodorant
Suntan lotion/sunscreen
Towels/washcloths
Plastic bag for dirty clothes (t

here are no facilities or time allotted for doing laundry. If it is absolutely necessary, an adult chaperone can bring what is needed to a nearby laundromat during free time. We ask that they not miss any programs or camp activities to do so, though.)

PLEASE DO NOT BRING
T-shirts with offensive/suggestive symbols. T-shirts with beer/alcohol logos are also prohibted
Short shorts. We suggest the fingertip rule: if your shorts do not reach your fingertips when your arms are hanging down at your side, please consider bringing longer shorts.
T-shirts without sleeves
Backless or strapless clothing, bare midriffs, low necklines, halter, and tube tops.
Drugs/alcohol

NOTE: Catholic HEART Workcamp cannot be held responsible for any lost or stolen materials such as, clothes, jewelry, cell phones, etc. Therefore, please limit the amount valuables and possessions you bring.