If your group is planning on bringing snacks:
Limit the amount of snacks your group will need. We are running into situations in which groups are bringing an overabundance of snacks. Please only bring enough snacks for two days. Many groups bring snacks for 5 days and there is not enough room to store them in the snack area designated by the school. You will be free to purchase more snacks, if needed midweek. We are aware it is easier to bring an abundance of snacks instead of going out midweek, but we appreciate your cooperation in this matter.
All containers should be clearly labeled with your parish name.
Please bring trash bags. We ask that you be responsible for your own trash.
Once you have cleaned up your table please take your trash bag to the dumpster. Thank you for not placing your trash next to another trash can in the snack area.
We will ask one adult from each parish to be in charge of your snacks. This responsible individual will be your youth group designated "Snack Sergeant" and will be given a briefing on all the snack rules at the adult meeting. Basically this person will be responsible to make sure your parish snack area is clean with no open containers and snacks and put away neatly.
All snacks should be kept and eaten in the cafeteria and in other designated snack areas.
There is no food allowed in the sleeping quarters at all. If food is left in the rooms when we are locking up and it is visible the camp staff will remove it from the rooms. We need the adults to supervise and oversee that no snacks are brought into the sleeping areas.
Snacks have become a serious matter and we have heard complaints from school/facility personnel. CHWC does not want to jeopardize the use of a school because of messy snack areas.
Although it seems as if we are making light of this situation, this is a very serious matter. We look for your cooperation in controlling this issue.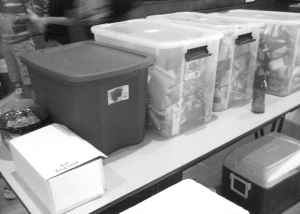 All snacks must be kept in a plastic container of some kind that can be sealed. This will help keep ants and other animals from snacking on your goodies and invading the school.